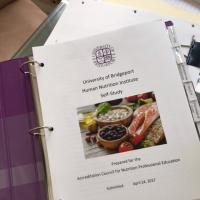 Overview of Accreditation Process
ACNPE accreditation enables schools to ensure the educational quality of their programs and promote ongoing improvement -- through a voluntary peer-review process.  The Council grants accreditation to master's degree clinical programs in advanced nutrition that demonstrate satsifactory compliance with ACNPE's standards and policies.  There are two steps in the accreditation process -- candidacy and accreditation.  Once accreditation is achieved, the Council periodically reaffirms the program's status.
An institution interested in seeking ACNPE candidacy must have students enrolled in the program for at least two semesters at the time the candidacy site visit takes place.  A well-established, mature program that has graduated at least one class may apply directly for ACNPE accreditation without first seeking candidacy.
To learn more about the accreditation process or to  apply for eligibility, see Handbook of Accreditation, Part Two, Candidacy and Accreditation Processes and Part Five, Policy 10, Eligibility Application.  
Accreditation Essentials